Byers Scientific offers proven and innovative solutions for industrial-scale odor mitigation, data-driven emissions analysis, and scalable Cloud-based technology engineered for a variety of industries.
The origin story
The company's founder, Marc Byers, was originally introduced to the solid waste world through an unlikely connection with Willie Nelson. 
Willie's long-time bassist, Dan "Bee" Spears, was invested in a composting project in Southern Idaho. After he passed, his one-time bandmate and close friend Skip Denenberg (also a friend of Marc's) suggested that Marc look into the project. He presented it as a business consulting opportunity. Two years later, Marc founded Byers Scientific & Manufacturing to serve a niche industry segment. The business quickly expanded to many other industries, always focused on innovating the next big thing. 
"The one thing that struck me as I began to analyze and understand the solid waste industry was data and science were very much conspicuous in their absence. We set out to create solutions that are not only innovative, scalable and effective but also engineered with the idea of data informing our designs and measuring our successes." – Marc Byers
Breakthroughs in Odor Mitigation Technology
In 2019, Pacific Environmental Analytics was formed to provide an innovative bottom-up approach to tackling odor from commercial agriculture. Specifically, PEA worked within the cannabis industry to build the first emissions inventory for different strains of cannabis across various phenological stages.
In the past few years, the names have changed but the goal has stayed the same: to deliver a seamless end-to-end odor mitigation solution. Pacific Environmental Analytics (now Byers Emissions Analysis), Byers Scientific & Manufacturing (now Byers Mitigation Technologies), and the newest division, Byers Intelligent Systems, provide three powerful solutions under one roof—Byers Scientific. 

As community complaints of odor from various industrial operations rise across the country, our industry-leading scientists—Dr. Alex Guenther and Dr. Will Vizuete—are at the forefront of research and development finding answers. They're rising to the challenge of creating best-in-class mitigation solutions to some of the most pressing odor and emissions issues our world faces.
The odor mitigation process begins with developing a scientific and mathematical approach to quantifying odor coming from emissions at industrial sites. Byers Emissions Analysis offers data-driven and engineered technologies for effective, large-scale odor control. Our efforts include  collaborating with businesses to develop a robust odor mitigation plan that deploys the best available technology for informing compliance preparedness with air quality and odor. We help solid waste facilities, commercial cannabis, industrial-scale composting, and wastewater treatment centers prepare for and resolve their site-specific odor issues with data and technology to efficiently, effectively, and sustainably combat odor.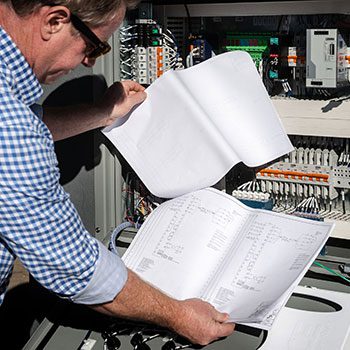 Byers Mitigation Technologies: Empowering Solutions
Byers Mitigation Technologies works diligently to derive the best possible control solution at the required scale of performance to keep industrial operators and communities happy. Byers' patented vapor-phase perimeter odor mitigation systems have long been an integral part of the most comprehensive odor mitigation plans for a variety of industrial-scale businesses. Now, Byers Mitigation Technologies is bringing its odor mitigating expertise indoors with their latest odor mitigation technology, the Byers MT-6 Molecular Scrubbing System. The Byers approach allows for a comprehensive odor abatement plan that saves time, money and energy keeping operators running seamlessly. 

Byers Intelligent Systems: Empowering Efficiency
Utilizing novel technology developed by Byers Intelligent Systems, all Byers equipment is automated through our proprietary Bolt-OnTM Cloud-based SCADA system. The system allows for remote control monitoring, scheduling maintenance, and data reports to undoubtedly prove compliance to regulators and licensing agencies 24/7. Our science and data-derived mitigation and monitoring solutions significantly reduce liability associated with a perceived odor detected by nearby communities, keeping your operation running smoothly.
Byers Scientific: Three Solutions Under One Roof
Our team strives to empower solutions, compliance, and efficiency for all of our clients by combining innovative research and cutting-edge technology that we personally stand by.